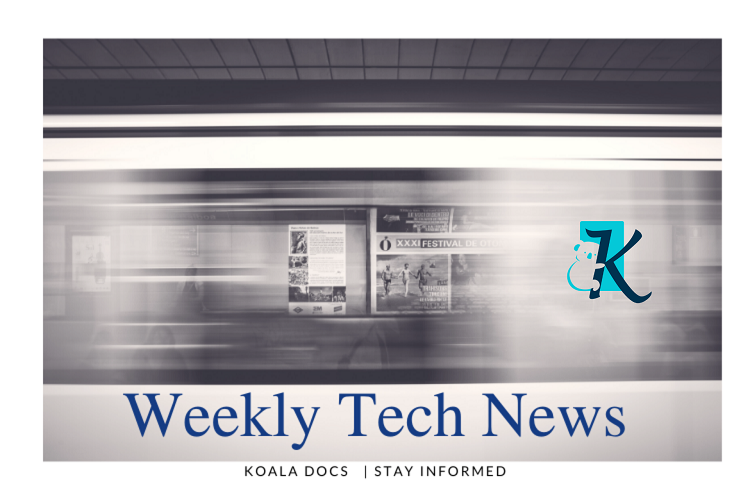 Weekly tech news – May 11th, 2020
Tech news notes that the tech market did not block during the lockdown. Big companies, such as Microsoft or Facebook, are still launching products and updates, while tech giants, such as Apple, find new ways of showcasing their new products, by integrating VR in the process, for instance. The lockdown has not only increased the video-on-demand request, but also boosted video games use. At the same time, big tech companies increase their efforts related to fighting the pandemic: WhatsApp users can now fact-check COVID-19 messages and Apple expands reach of Mobility Trends Report Tool to help mitigate COVID-19 spread. Google has launched the new improved version of Google Meet, which allows more people and businesses to use this tool for free. Discover more in this week news summary.
Big tech companies are not losing time: Microsoft is trying to convince Chrome users to switch to the new Microsoft Edge, which has been drastically changed with the latest Windows 10 update, as Express UK notes. Windows 10 users who access the web via the popular Chrome browser are now being urged to make a major change to their digital habits. It seems Microsoft is keen to give the number of people using its Edge software a boost with the Redmond-based company now displaying prominent adverts for its updated browser. According to the latest statistics gathered by NetMarketShare, the Microsoft-designed app has surged to almost 7.6 percent of the market in March. Of course, Edge is still far behind Chrome's 68.5 percent. But storming into second place is a sizeable accomplishment for a web browser that is less than three months old. Read more on this subject on Express UK.
Apple has launched a new phone and now has teamed up with Lamborghini to let iPhone Users View the New Huracán EVO RWD Spyder in Augmented Reality. Apple users can visit the Lamborghini website  on their ‌iPhone‌ or ‌iPad‌, tap "See in AR" next to the announcement of the Huracán EVO RWD Spyder, and then the vehicle will be viewable in AR. Users can rotate and expand the size of the car in order to look more closely at interior and exterior details, and take pictures of it in their environment. According to Lamborghini, this AR Quick Look feature will soon be available for its entire range of vehicles. Apple SVP of Worldwide Marketing, Phil Schiller, commented on the launch of the AR feature, mentioning that the companies wanted people to be able to view the new Lamborghini model without having to leave their homes. Read more on this subject.
Apple has also added significantly to the data available through its Mobility Trends Reports tool which they launched in April using information collected from Apple Maps. Apple's reports are designed to help mitigate the spread of COVID-19 by providing helpful insights to local governments and health authorities, although anyone can use the tool to search by country, region, or city to see specifics trends for an area. Find out more about this here.
Meanwhile, Google has launched the new improved version of Google Meet, which allows more people and businesses to use this tool for free. Now, Google has a powerful set of tools for remote working, and its videoconferencing tools are a viable alternative to Zoom. If you're already a Google Account user, you've probably encountered Gmail, Google Drive, and Google Calendar. These products can be used together to enable better remote working practices and ease the transition of remote work. Google account owners now have free access to Meet, formerly Hangouts Meet. Read an interesting comparison here.
The lockdown has not only increased the video-on-demand request but also boosted video games use, as BBC News notes. Two of the biggest names in video gaming have seen demand jump as virus lockdown forces people to stay at home. The makers of popular games Call of Duty (CoD) and Fifa say player numbers have soared during the pandemic. That's boosted the financial performance at Activision Blizzard and Electronic Arts for the first three months of this year. The gaming industry has seen sales hit records in recent weeks as more people turn to their entertainment services. Read more on this subject on BBC News.
Meanwhile, the fight against the virus continues – WhatsApp has announced that its users can now fact-check COVID-19 messages. To handle such cases, the instant messaging app has collaborated with Poynter Institute's International Fact-Checking Network (IFCN), so that users can check misinformation during the COVID-19 pandemic. By using the IFCN's bot on WhatsApp, citizens from all over the world will be able to easily check whether a piece of content about COVID-19 has already been rated as false by professional fact-checkers, a statement said. Since January, more than 80 fact-checking organizations from 74 countries have identified over 4,000 hoaxes related to novel coronavirus. The information has been compiled in the CoronaVirusFacts database and is updated daily by IFCN, so that chatbot users can navigate and easily access its content. Read more about this subject about this in the tech news.